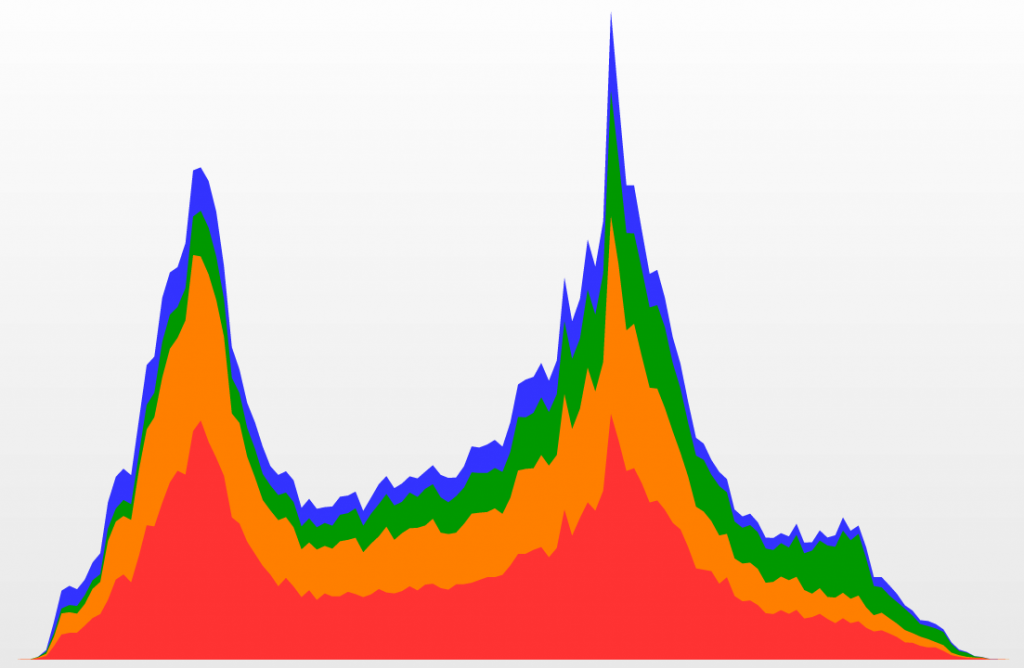 If you haven't noticed—and I sure hope you have if you ride the T—MBTA schedule and location data are infinitely more accessible than they were about a year and a half ago. A couple of guys at the nascent Massachusetts Department of Transportation did some heroic things with open data, leading to releasing complete MBTA schedule data last year (to Google Maps and the world) and real-time bus and train locations earlier this year. The upshot is that they've improved rider experiences on the cheap by opening data and letting skilled and motivated developers in the community create useful applications.
As part of this effort, a developers' conference took place last year, part of which was a visualization contest. Two days' worth of fare payments on trains and buses (hundreds of thousands for each day) were released with a challenge to create a visualization of a "day in the life" of the MBTA. I attended the conference but never got around to visualizing anything more than the chart at the top of this post. Thankfully other people had more follow-through.
My favorite was the beautiful series of charts by Ryan Habbyshaw, Brad Simpson, and Todd Vanderlin.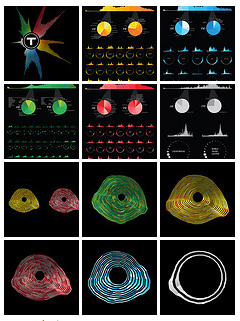 Make sure to check out all the other entries. There are more awesome charts, maps, and even data sonification. If anything feels missing, note that the data can't distinguish which line a passenger used at stations where lines intersect, nor is the location of (most) payments at Green Line surface stops known.
I like looking at the temporal pattern for each station and inferring which places are mostly destinations for people and which are mostly origins. As expected, the outer stations mostly peak in the morning as commuters head into town while the downtown stations peak strongly in the afternoon. But there are some that have bimodal patterns, which I like to interpret as indicating areas of good city life—a nice mix of living and working. Central Square, Andrew Square, and Mass Ave are a few examples of such a distribution. Then there are a few that don't have big peaks, such as Airport and Community College, where people tend to be coming and going all day.

Another MBTA map worth mentioning is this transit time map by Dan Tillberg. Click a point and see how long it'll take to get everywhere from there via the T. This map is interesting to me because it shows how well my concept of central Boston corresponds to transit times. When I think of the "city" here, I think of an area roughly like the 30-minute zone from, say, Park Street. Thirty minutes from Central Square, meanwhile, pretty well matches my personal range of motion (which I keep documented). It'd be an interesting exercise to compare mental maps to travel-time maps like this.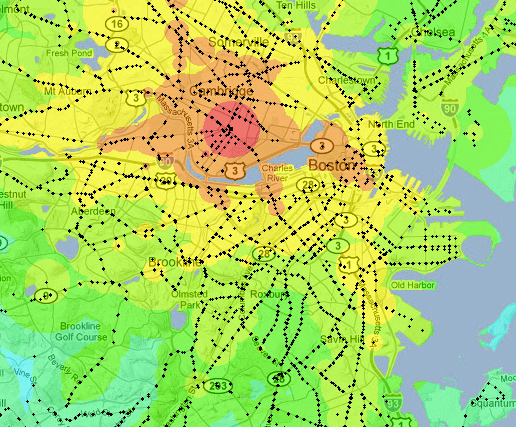 Though less colorful, similar information (for many other cities as well) is now available in the impossibly cool Mapnificent.
This is certainly not an exhaustive list of maps and charts of MBTA data. More to come as it's discovered. Links are welcome!