In case you missed it, this past weekend was the grand opening of a beautiful new public space for the Norman B. Leventhal Map Center in the Boston Public Library at Copley Square. You probably already know the Map Center, which boasts a top-notch collection, some of which can be seen on their website and Flickr. Now it has its own little exhibition area, reading room, and learning center in the northwest section of the McKim Building. I went to check it out and see Mr. Leventhal, Mayor Menino, and the library bigwigs speak and cut the ribbon.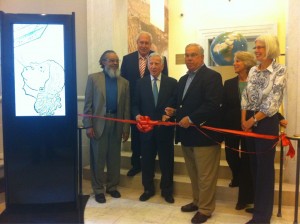 Photo by Kirk Goldsberry, whose phone camera is better than mine, and who promised to punch me in the face for posting this here.
The exhibit right now features "Unconventional Maps" and has some pretty interesting ones. You can also find some cartography books there, which I hadn't previously found on the library shelves. (Not so much atlases and the like, but rather the kinds of texts that we cartographers have at home.) There are kid-oriented displays, too. Herry the Herring Gull is here to teach us about maps!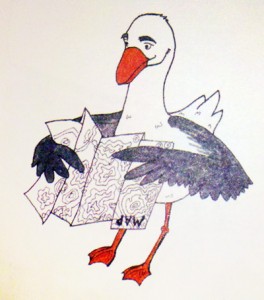 So go check it out. Be sure to admire the stained glass map above the entrance!