In spite of the borderline comical duplication of street names in the Boston area (often within the city of Boston itself), the streets around here are named for many people, places, and things. They are names we encounter every day but rarely think about. Some time ago I heard the idea of making a map indicating the origins of all these street names. It can be a pretty ambitious undertaking for any place… unless someone has already done all the research.
Luckily in my current home, Cambridge, someone has. In 1978 Christopher Hail began assembling what is now a fairly mind-blowing database of the history of pretty much every Cambridge street and building, past and present. It's truly a heroic effort. If you know Cambridge at all, do yourself a favor and lose several hours looking through it.
I've gone through Mr. Hail's history of modern Cambridge streets and attempted to categorize them by what they are named for. Here's a resultant set of maps.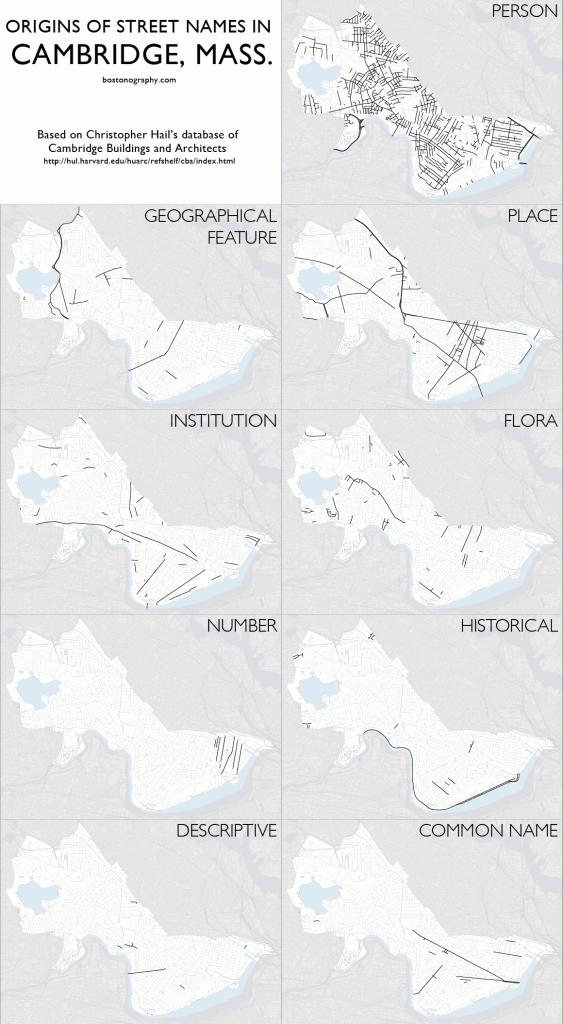 The categories I settled on are briefly described below. It should be noted that there is a small amount of guesswork here; some name origins are uncertain, and not every street fits perfectly in my categories.
Person. Most streets are named for a person. Often it's a prominent landowner or the person who laid out the street, and sometimes it's in honor of someone, like Washington.
Place. There's "Massachusetts" and "Cambridge" and such, and then streets named for their destination. But there are also streets apparently just named for other places.
Geographical feature. Named for rivers, hills, and the like.
Institution. By this I mean universities, hospitals, or even businesses. Usually the institution is located on the street, or the street runs toward it.
Flora. Named for a tree, a flower, or what have you.
Number. First, second, and so on. These, of course, are only in East Cambridge.
Historical. Named for some historical event or entity. Here I count things like Memorial Drive, named as a war memorial, and other streets that are named for things like Civil War battles.
Descriptive. The name describes the street itself. Western Avenue goes west; Bow and Arrow Streets form a bow and arrow shape.
Common name. Those names you see everywhere that don't mean much in particular. Pleasant Street, Broadway, &c. (Broadway would be descriptive except that it is not particularly broad compared to anything else.)
The idea here was to look for patterns in the street names, but it turns out there are not many patterns. A large majority of streets are named for people, often a local landowner or a military figure—perhaps to the surprise of outsiders, Cambridge streets aren't all named for Bolshevik heroes. Apart from numbered streets existing solely in East Cambridge, the only thing that stands out in these maps is a group of streets using place names in the Area 4 (at once a lame and awesome name, by the way) and Wellington-Harrington neighborhoods. Many of these are good old and New England names: Norfolk, Essex, and so on.
So there's not so much to see geographically. Some temporal maps would be interesting, perhaps showing the streets in the order they were laid out, or even something based on the lifespans of the people for whom streets are named. In any event, this is a good point of departure for looking into the streets' history. It can be a little fascinating. Thanks to tiny Norumbega Street, it's how I learned that Vikings totally landed in Cambridge in the year 1000, by present-day Mt. Auburn Hospital.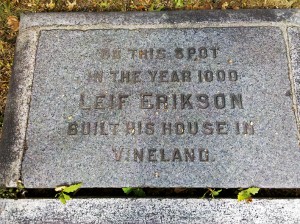 Now who wants to map the same for Boston?