That's right—it's Memorial Day weekend. Most of us may not do much in the way of observing (or even noticing) this beyond partaking in the sudden and delicious influx of backyard barbecues (where the Sam seasonal is suddenly summery). And even if we do find ourselves in a grill-side conversation about the weekend, I've noticed that a lot of the time, the discussion is not about what people are actually doing to observe the holiday, but instead it is about how "no one" seems to pay much attention to why the holiday weekend exists. Inevitably, the people who point this out are the same ones who leave work early that Friday to take their first camping trip of the summer, or to hit the pool or beach (before its inundated with red tide, right?).
Well, if you live in Boston, and you aren't too lazy, it may be easier than you think to pay your respects. Here is a quick Google map showing all of the cemeteries in Boston (at least according to OpenStreetMap, MassGIS and a little geo-sleuthing on the interwebs). Do a little panning around, and you'll see right away that there are a good number of cemeteries in this town (to say and show nothing of those non-Boston features, of which there are quite a lot, including Mount Auburn in Cambridge and Watertown—"America's first landscaped cemetery"). While it may not be immediately obvious which plots belong to a military service person, many cemeteries do have memorials dedicated to those who gave their lives for this country.
I look at this map and I think, "Gosh, it probably wouldn't take much to drive through one of these, have a gander at all of those names, and all of those miniature American flags, and think about how it is that we've all gotten here." It turns out, for those who live in Boston, it wouldn't take much at all. Assuming you aren't on a Boston Harbor Island without a cemetery (of which there are a few) or at the end of a runway at Logan, the farthest you can get from a cemetery (as the crow flies) in this town is under 2 miles.
Where exactly is this place that is farther than any other in Boston from a cemetery? Why, it's the Boston University School of Theology Library, of course! At a whopping 1.77 miles from Mt. Auburn Cemetery, the folks hanging out in the BU Theology Library have the longest hike of anyone in town if they want to pay their respects this weekend.
Others may have a similar walk. Here is a map of 1328 named places (from GNIS) in Boston, each coded according to distance to the closest cemetery. Red is used when the places are relatively far from cemeteries, while blue is used when they are close (leaving oranges, yellows and greens somewhere in between).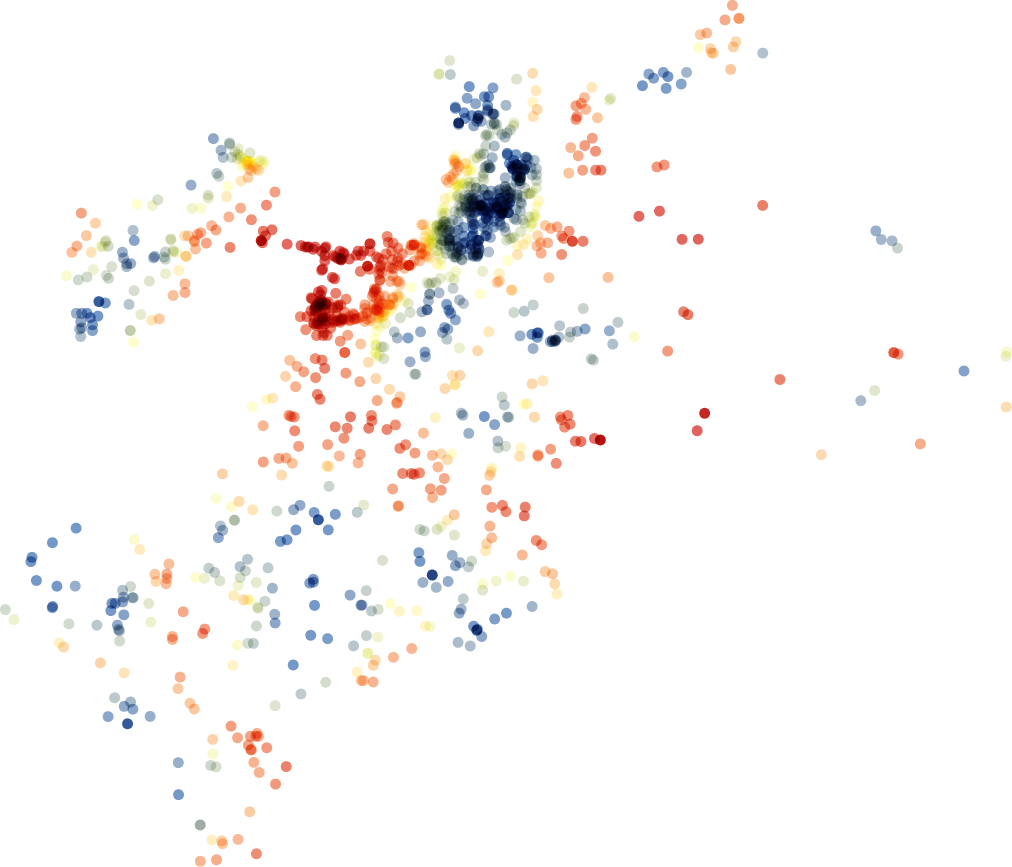 Of course, this leaves out some pretty obvious ways to observe Memorial Day. You might, for example, visit a memorial. Perhaps we will map those next year.