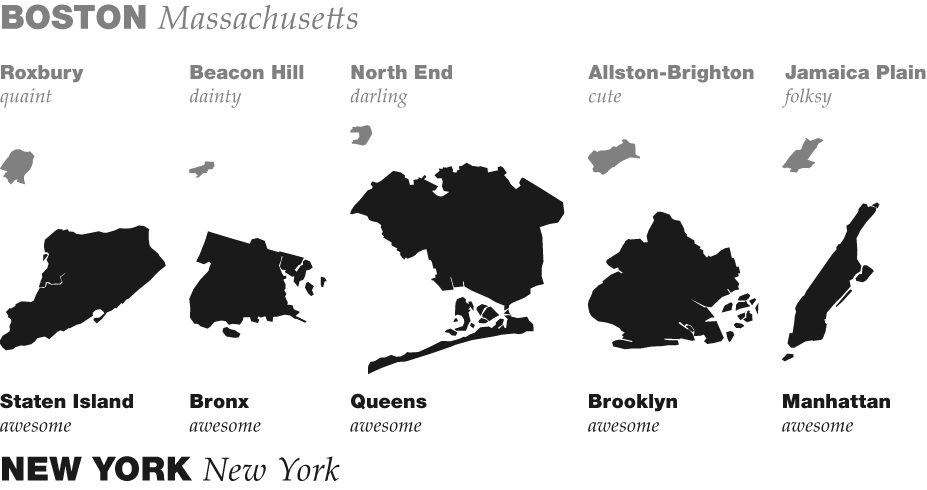 New York, New York: The greatest town in the universe. You just can't beat a town with a baseball team so classy that it wears pin-stripes and hotels so expensive that literally no human being can afford to stay for an evening. Really, New York has everything that Boston has to offer and more.
So, Andy and I have talked it over and we've decided that Bostonography has run its course. Sure, it was quaint, vaguely European and laced with forced references to educational institutions just outside of town. But, frankly, New York is better. I mean, Boston? Really? It's actually pretty cute that we even thought for a moment that Boston could compete with the world capital that is New York City.
So, this was Bostonography. And thanks for checking it out while it was, despite Boston's inevitable fate as a second tier city.
Now, this is New Yorkography. And thanks for joining us! Come back often, Tweet it up and tell your friends. We've graduated to a real city, one with a park larger than Monaco, over 25% of the world's gold reserve and nearly four times more World Series titles than cute little Boston.
Here is just a sampling of why New York is so much more awesome than Boston. Boston has neighborhoods. Bah! They are so pedestrian that no one has bothered to formalize their boundaries. New York has boroughs and they are all better than Boston's neighborhoods. Just look at them.
And, yes, that graphic is to scale.
ps. April Fools!