If there's one thing everybody knows about neighborhood boundaries in Boston, it's that nobody knows where they are. But they'll tell you you're wrong if you try to draw lines. That's fair enough, really—any line drawn will divide neighbor from neighbor. But the reality is that cities need to create discrete districts for many purposes, and this "hogmosh" seems to be controversial with some regularity.
Across the river, however, Cambridge has stable and—as far as I can tell—not so controversial neighborhood definitions. Apparently these are about sixty years old now. Thanks go to friend Katie B. for passing along this interesting 1953 report (PDF) on the establishment of Cambridge's thirteen official neighborhoods.
The report uses as a basis the "neighborhood unit principle" proposed by Clarence A. Perry in the 1920s and 30s. Under this idea, neighborhoods are mostly organized around civic institutions, most notably an elementary school. See this comparison of the ideal neighborhood to Neighborhood 8, now called Agassiz (and note the "future subway station" on Mass Ave).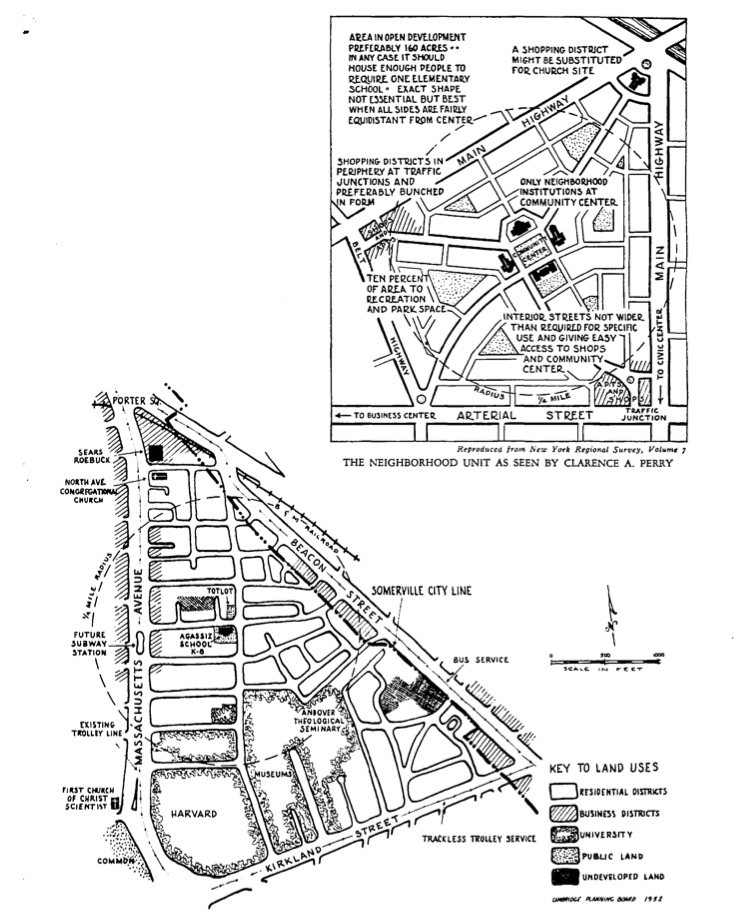 Anyway, read the document if it strikes your fancy. There are some other maps besides the one shown above. Here are few points and questions that seemed interesting:
Most of the thirteen neighborhoods are unnamed in this report, and most of those have since been given official names. Curiously, however, two are still known by their numbers: Area 4 and Neighborhood 9. Why have these remained nameless?
Boundaries look unchanged, with the exception of the boundary between neighborhoods 5 (Cambridgeport) and 7 (Riverside), which has moved from Western Avenue to River Street. Is it possible this came with the conversion of those streets to one-way? I don't know when that occurred.
Toward the end of there report there's a nice list of some established place names with a bit of history behind them. It's a little fascinating!
We must note that while these neighborhoods are generally accepted for administrative purposes, they don't necessarily coincide with how most of us think about the city. Some neighborhoods are clear, like East Cambridge. But Cambridge is often thought of in terms of its squares, and you won't find, for example, a "Central Square" neighborhood—in fact that square is at the intersection of four different neighborhoods. It's a difference between residential organization and commercial organization, perhaps. The city does have definitions of those "square" business districts for planning purposes, but they're not the neighborhoods you'll see numbered on those shiny visitor parking permits!