Let's settle this.
Over and over it's been made clear that there is little agreement on the precise boundaries of Boston's neighborhoods. Most people agree on the existence of the major neighborhoods, but everyone has different opinions on where one ends and another begins. The South End may or may not be eating Roxbury. A chunk of Dorchester may or may not have been handed over to Mattapan. Mission Hill may nor may not be part of Roxbury. The confusion and disputes are understandable because the reality on the ground is that there are no hard lines except in a few cases of obvious physical barriers, but it's also true that arbitrary borders do matter in politics, city services, and even personal identity.
Well, we can look at the variety of city-defined boundaries (PDF) or at somebody else's assertions and say "that's wrong, stupid!" or we can all compare notes on what we think the neighborhood boundaries actually are. To that end, fellow Bostonographers, we would like to collect your opinions and map areas we all agree upon and where we disagree. We've made a simple mapping tool for you to contribute your neighborhood definitions. It lives at http://bostonography.com/neighborhoods and looks like this: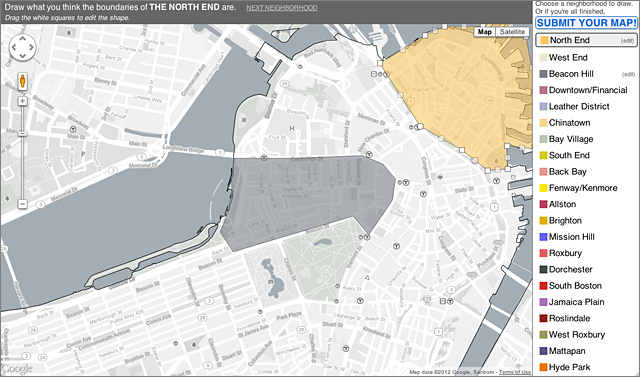 We ask you to draw and submit boundaries for most of the usual top-level neighborhoods, excluding Charlestown and East Boston because they're pretty well indisputable, and with Allston and Brighton treated separately because they seem to be the most easily divisible sections of the official neighborhoods. You can submit a map of as many or as few neighborhoods as you wish, but we of course encourage you to draw all of them. Detail as intricate as you have patience for is appreciated, too, for the sake of the eventual maps of the results. Once enough people have contributed, we'll post the data and some maps of it.
So get to it! Contribute, spread the word, and let's create the ultimate collective map of Boston's neighborhoods.