There's an excellent Far Side cartoon of which I'm often reminded around here: a man in a car has asked a farmer for directions from Point B to Point A, as indicated by the map in the man's hand. The farmer is stumped, saying (to paraphrase) "most folks want to go the other way." This seems to happen to me a lot when in a car or on a bicycle, i.e., when subject to traffic regulations. I have a clear picture of how to get somewhere but not how to get back, thanks to Boston's uniquely bizarre system of twisting roads and one-way streets. Sometimes you can't get there from here, but sometimes you can—you just can't get here from there.
Here, for example, are a couple of routes to and from a point near my home in Cambridge that have given me pause more than once.
It's super quick and easy to get to the main Cambridge library on a bike. Getting back takes some thinkin'. Google's suggested routes from A to B and B to A don't share any road segments at all.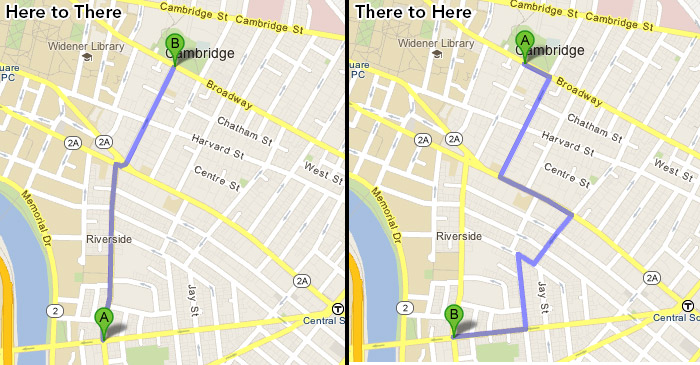 "Sure. I'll drive you to the South Station bus terminal," I say, helpfully. Then I drop off my friend and sit amid the taxis and realize I don't know the best way to get back home.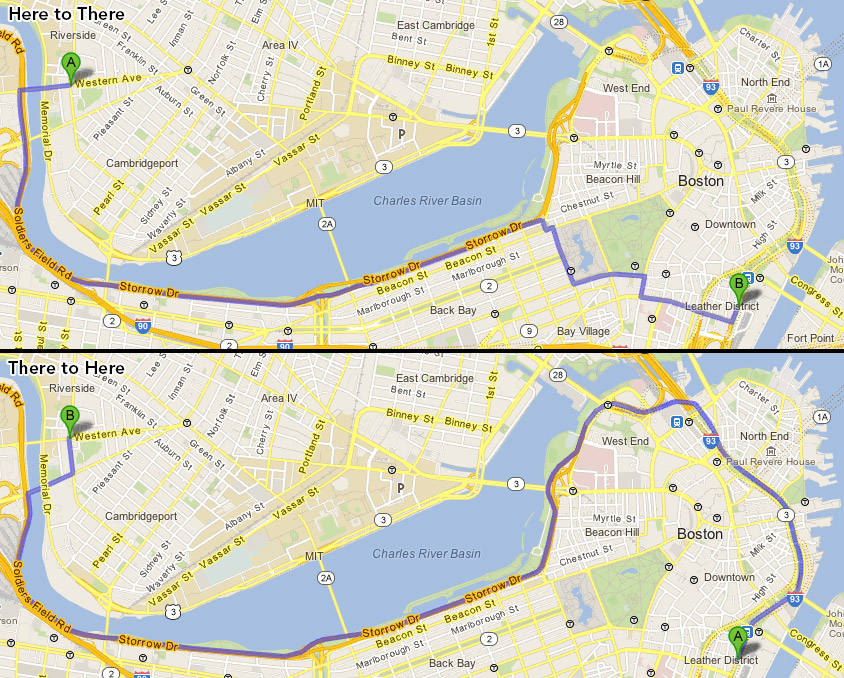 It's not that the routes are objectively difficult; it's that unlike many other cities where you can mostly retrace your steps, the return trip here often requires knowing a whole different set of directions. It's not hard to figure out these days, either, what with smarty-pants phones. But to know offhand how to get to any one point from another AND back again is something to be proud of, I think, as it demonstrates a mastery in local geography, which doesn't come easily. (If you're a cartographer, you crave this point of pride.) This should also indicate what a difference there is in this town between walking and using wheeled vehicles, at least if you more or less obey traffic patterns on a bicycle, and it explains why I, for one, am so bad at giving directions to drivers like the man in the Far Side cartoon even if I know exactly how to walk there. Boston-area navigation is difficult enough on foot; throw in one-way streets and turn restrictions and you've got a vehicular nightmare. (Don't get me wrong: I'm as hip as the rest of you and almost never drive a car in town, but these problems occur once in a while.)
Anyway, above are just two of my personal examples. The real question is: what are your own favorite examples of knowing how to get from Point A to Point B, but not Point B to Point A? Do share with all of us, and maps are encouraged!