Remember that time last weekend when it snowed a whole bunch and we all waded through four-foot drifts to get out of the house, went skiing down city streets, or else enjoyed lots of bacon and beer in the comfort of home?
The geography of this event can be summed up as "snow everywhere," but besides vague or anecdotal accounts there is some data to look at. Beyond the snow itself, we can track the progress of storm response. The city of Boston set up a web map that tracked the live location of snow plows and their ground covered, which would be excellent for a summary map, but in an excessive triumph the site was overloaded and had to be shut down because the demand was interfering with the city's ability to track plows itself. (Otherwise, we could make a nice map like our friend Derek Watkins did for NYC.)
So instead of the plows, how about people clamoring for plows? The city compiled a list of snow-related calls from the ever fascinating constituent services request data, around 15,000 in total from Friday through Monday. Most of these calls are labeled as requests for snow plowing. While there are a couple of hot spots (er, cold spots?) geographically, the temporal aspect is interesting. Who was impatient on Saturday morning? Who still had a snow-clogged street on Monday afternoon? (To say nothing of the problems that have lingered for days more.)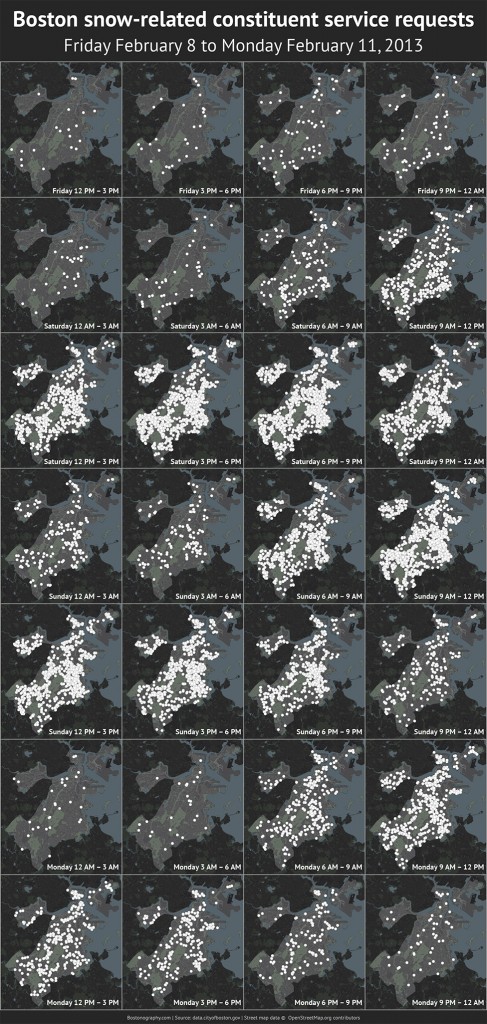 And in animated form through the weekend (pretty much 100% copied from this map):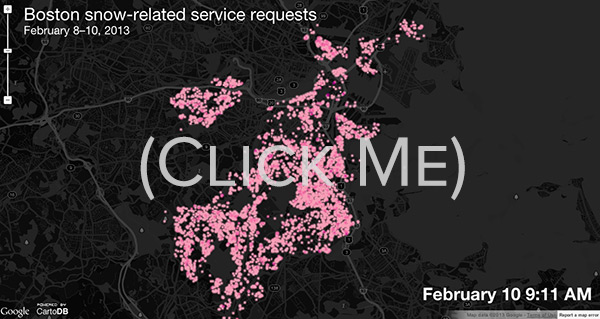 Conclusions? Well, none over time, really, except that peak complaint time everywhere was between Saturday afternoon and Sunday afternoon. Overall, with a couple of exceptions there appears to be something of an inverse relationship between population density and request density. In high-density areas, plowing a single street satisfies more people than in a lower density area, where plows have to cover more ground to reach everyone. Some of the highest density areas are also important business districts too, and may have been a priority. Also, residents in the high-density areas are probably less likely to drive regularly, and thus there are fewer urgent demands for clear roads. Or maybe something else is going on. What's your opinion or experience?
Whatever happened with snow removal, thumbs up to Boston for keeping the complaint data open and up to date!