New Yorkers want to own everything. Even the sunset once in a while: you may have heard of the phenomenon known as Manhattanhenge, when the setting sun aligns with Manhattan cross streets. It occurs twice a year—really four times if you count the rising sun, which is apparently too early for anyone to be in the mood to talk about.
Here in Boston, like most everywhere else in the country outside New York, we're at the disadvantage of not having the insane skyscraper street canyons that make Manhattanhenge remarkable. But perhaps our lack of any overall street system makes up for it; Manhattan gets only a couple of days each year, while the sun rises and sets over different streets on a number of dates here.
For one thing we have MIThenge, when the sunset aligns with MIT's Infinite Corridor. A phenomenon involving the sun's reflection on the Hancock tower has also been noted.
As for streets, well, our straight streets don't tend to be very long, but here's a map of a few of those that theoretically offer views of the sunrise or sunset. (Click it for bigger, better size.)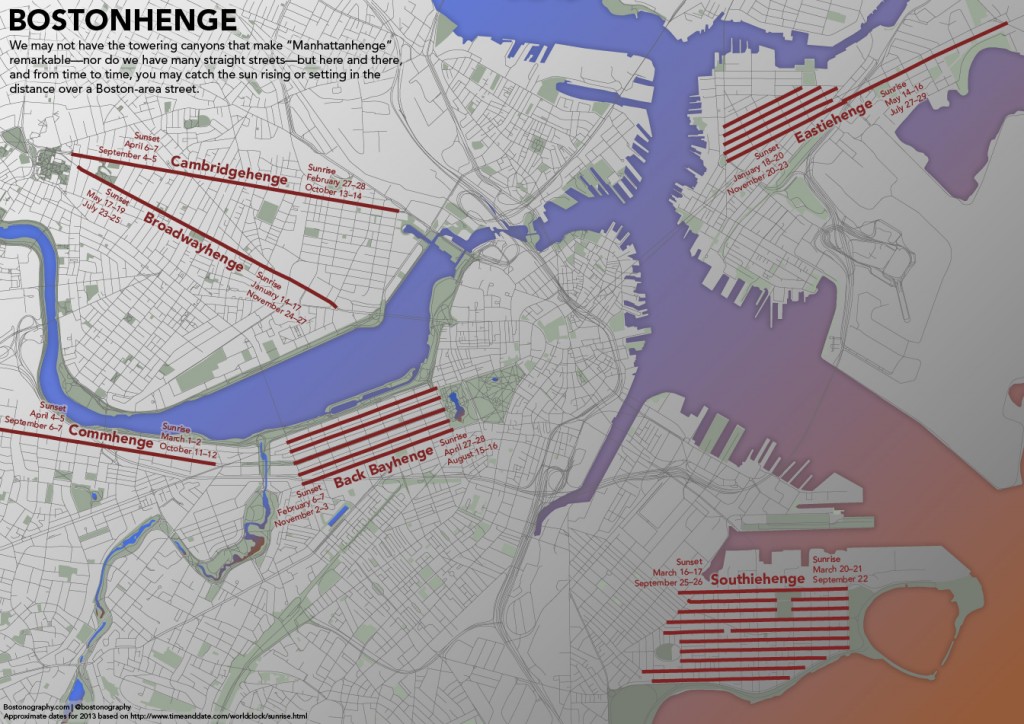 This map is only based on geometry and a sunrise/sunset calculator, so it's no guarantee of a good show, but these streets and others may be worth checking out on the right days. I think something fun could be done with "Commhenge" and the Prudential observation deck—as you may have noticed, the street points right at the Pru. You may know some other good streets from your own experience, so please share!
Go watch those sunrises and sunsets, Boston. Life is short; enjoy the colors!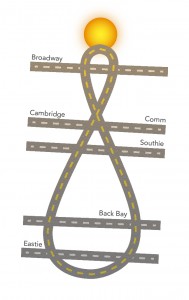 Tim said there should be a cool analemma infographic. I'm not sure I succeeded here, so let's hope he'll come to the rescue.