Happy Patriots' Day, everyone!
Today thousands of runners are making that famous trek from Hopkinton to Boylston Street. That's The Boston Marathon, the only one that counts, but there are many ways you can run 26 miles and 385 yards to reach that finish line. We thought it would be fun to put them all on a map. So there they are above: 581 different 26.2-mile routes to the finish line from all directions—plus the one official course.
If you protest that the map surely doesn't show every possible marathon route, you would of course be correct. The number of unique routes of marathon distance is practically infinite. You could run all kinds of crazy routes and barely even leave the neighborhood! How about a spiral marathon?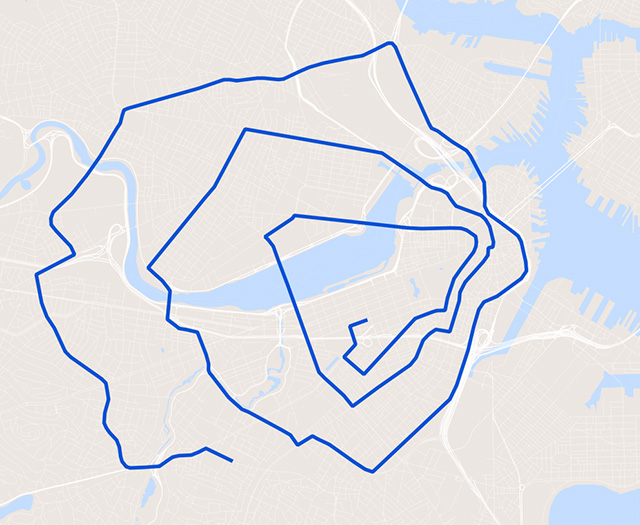 What's on our map is only a sample of routes that start outside the city, as the actual Marathon course does, flowing together as they approach Boston. We came up with a set of around 4200 candidate starting points, threw them at MapQuest's open directions API both for walking and driving directions, and kept the routes that turned out to be close to the right length. We also did our best to toss any routes that use limited access highways. Best not to run on those.

Whether you're running the Boston Marathon today or one of the myriad others, or are just taking a spin around the neighborhood, good luck and happy running!