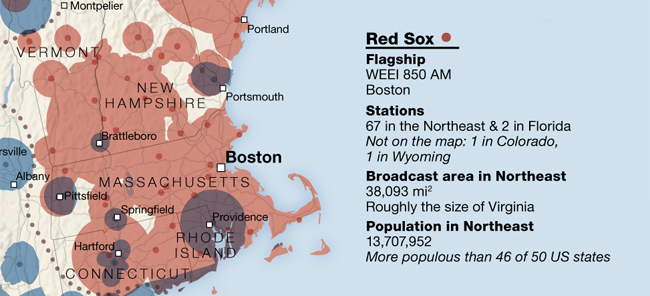 Our recent map on Red Sox and Yankees radio broadcast areas has raised a number of interesting questions. Chief among these revolves around a concern we had from the get-go: radio waves are not fixed. They vary wildly based on antenna direction and height, weather, ionospheric conditions, proximity to water, amount of groundwater, interference, &c. The Radio Rivalry map uses broadcast areas provided by the FCC. So, while they cannot ever be 100% accurate due to the aforementioned reasons, they do represent a nice, conservative and authoritative estimate based on parameters provided by each radio station and
The M3 Conductivity Map
.
Here is the AM/FM breakdown by team. Two things strike me about the distribution: 1. For whatever reason, the Red Sox have far more FM stations. So, there are a number of towns in Northern New England that all have great radio reception for the game (while Boston is still relying on AM for both English and Spanish broadcasts). 2. The Yankees Radio Network appears to be more efficient with fewer overlapping broadcast areas. In these cases, one must wonder if the overlapping stations in the Red Sox network are catering to different demographics. Perhaps, perhaps not.

The relevance of this map has also been brought into question. Does this map have any meaning in a society that relies so heavily on mobile technology, satellite radio and cable television? Ironically, this is the same era that has redefined what many consider "free" through the implementation of smart advertising (e.g. Google & Facebook). So, who is paying to broadcast the Red Sox and Yankees? Advertisers, right? If the advertisers do not make money, they will cease buying slots during the games, and the games will no longer be carried. So, yes, I think that this map is relevant. At the very least, it shows where advertisers are willing to pay for slots during Red Sox and Yankees games. And if they are willing to pay for the slots, there must be people who are listening to the games and buying their product (you know the jingle).
So, why make this map? I've wanted to make a map like this for years. I grew up listening to the Red Sox on the radio and still do today. I like watching games on television as well, but I don't have the same attachment to the experience. There is something about radio that gives you the impression that you are connected from afar. The way the reception cuts in and out and the way you angle the antenna. It's a ritual and an experience completely unlike catching a game on your DVR so that you can fast-forward through commercials. I have vivid memories of baseball games being delivered through the medium of radio. I listened to the Red Sox win the World Series on American Forces Radio in The Netherlands. I've also listened to a Red Sox game while on a camping trip in Northern Nova Scotia (though to be honest, the reception wasn't great).
On another level–and this must be typical of any road-tripping Red Sox fan–I have often wanted a map like this for reference. It seems like every time I am driving through Maine, New Hampshire or Vermont in the summer, a game is on and I know there must be a station nearby but I simply cannot find it. Well, now I certainly know (for this season, anyway). Here is a quick and dirty reference Google reference map.
The rivalry between the Red Sox and the Yankees is often touted as the fiercest in sports. It is an obsession—some might say a lifestyle—in Boston and New York. Tee shirts are made, bets are placed and emotions run high. Even the athletes treat these games with greater importance than other match-ups. The meaning imbued in seemingly inconsequential mid-season games can be epic. In 2006, Red Sox and the Yankees met for a double header that resulted in both regular season 9-inning game length records. One game took 4 hours and 45 minutes; together they lasted 8 hours and 40 minutes (an average game will last just under three hours). This rivalry is nothing new either; it has been going on for decades. All the while, sports writers throughout the country have hashed, rehashed, dissected, bisected, analyzed, debated and mapped it. This is our contribution; this is our map.