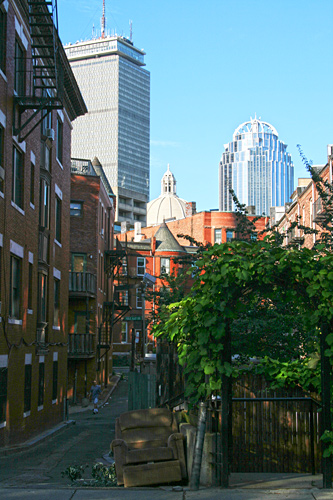 2011's great Moving Day is nearly upon us. We have this crazy idea for the occasion. Well, actually it's the same idea we have for everything: make a map of it.
Tim and I have both spent time in cartography school in Madison, Wisconsin. Most leases in the student areas there turn over on August 15, an occasion known as Hippie Christmas, when the streets are full of filthy furniture and all kinds of treasures. We've had our truck-parking challenges and homeless summer nights. That's fun, but this is Boston, baby! Boston has about as many students as Madison has anybody.
Tracking U-Hauls stuck at Storrow Drive overpasses is too easy. Our idea is this: map all the couches, chairs, &c. seen on the street as the September 1 moving day approaches and passes. We intend to conduct some expeditions around Allston and other places ourselves, but we're hoping to crowdsource this too. Please help us on this noble mission! Here's how:
See furniture or the like discarded or otherwise sitting on the street or sidewalk because of a move.
Note its location.
Tell us about it! Tweet at us (@bostonography), send an email (bostonography@bostonography.com), reply to this post, or otherwise track us down. Describe what you saw and/or send a photo (photos are definitely encouraged), and give its location as specifically as possible so that it can be pinpointed on a map.
Hope, along with us, that something interesting comes of all this data. Enjoy documenting your city.
It'll be fun. Are you in?